Finally, here is my promised blog about our most recent Global Project trip to Morocco. Morocco is 99.95% Muslim and we were told in advance that we wouldn't be able to talk about Jesus while we were there. Our purpose was to work with Convoy of Hope to help provide some humanitarian aid to those who needed some hope.
I must admit that before I left I wondered, really, what is the point? But, I knew that John and I had been appointed by God to be on this trip and thus I would go and serve.
Here's a tip – do NOT read A Thousand Splendid Suns on your way into a Muslim country. It will not help you arrive with a loving and kind spirit. Unfortunately, I made that mistake so when we arrived late on Tuesday night I was unsettled and nervous. We weren't scheduled to meet up with our team until Wednesday morning (being as we'd detoured to Amsterdam along the way) so we were on our own. I was unprepared for the fact that they'd want my passport number when we checked into the hotel. I tried ignoring that question on the registration form but the hotel clerk would not check us in without it. Apparently, this is standard operating procedure in Morocco. Let's just say, the government likes to know where you are at all times. As you might imagine, this did not help settle my nerves.
Wednesday morning arrived soon enough and we were back at the airport to meet the team. Once the shuttle bus driver understood we were trying to meet friends coming in from JFK, he grabbed our bags and escorted us to the gate where they would be arriving. Very kind! Gradually, I was starting to feel more comfortable in my surroundings.
Once our team arrived we loaded up our luggage and headed for Khemmiset where we'd be doing the bulk of our work. Pronouncing Khemmiset properly requires starting with something that sounds like you're trying to clear out the back of your throat and then adding "hemmiset" after that. It's not easy for those of us who use English as our first (and basically only) language.
Our hotel in Khemmiset was beautiful! There are three couples with our group and we all shared an apartment type of living arrangement. Two couples shared a bathroom and (upon my request) John and I had the master bedroom with an attached bath. Just to be clear, I requested this room due to a lack of appropriate attire for moving between bedroom and bathroom and NOT because it contained a Jacuzzi tub and view of the lake. I wasn't even aware of that at the time of my request. My friends, Patti and Rebekah climbed in to get a feel for the tub.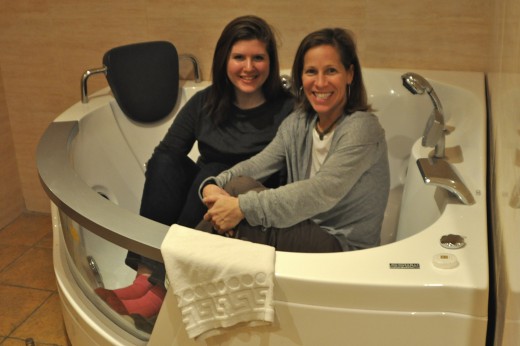 I'm not going to lie, it was nice, but the jets didn't work and we never really had time to use them anyway. The apartment area also had a huge living room in it and ended up being the spot where we had all of our team meetings and breakfast each day.
We had a chance, after our arrival, to settle into our rooms, take a nap and enjoy a little time outside by the lake before we had lunch and a team meeting to help us prepare for what was coming up in the next few days.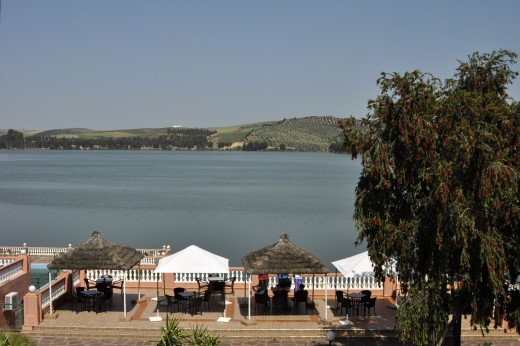 After our team meeting the girls in the group went to downtown Khemmiset to purchase appropriate tops to wear during our ministry time. We did not need to cover our heads, but it was important to be sure our backsides were well covered. Who knew? It was during this trip to town that I knew for a fact that we were indeed strangers in a foreign land.
While Khemmiset isn't terribly small (it has a population of over 111,000) eleven white girls still make quite a statement as they roll into town. I don't think I'll ever forget the little girl we passed on our way. She was probably around six or seven years old and had beautiful dark, curly hair. She was standing, I believe, with her father, just off the side of the road and when she saw us she just stared with this "why do those people look so different" kind of look on her face. Man, she was cute!
Of course, after we parked the van and walked to the shop where we'd buy our clothes, we got quite a number of looks from the townspeople. I leaned over to the team member next to me and started singing "I Love a Parade" because I felt very much like I was in one.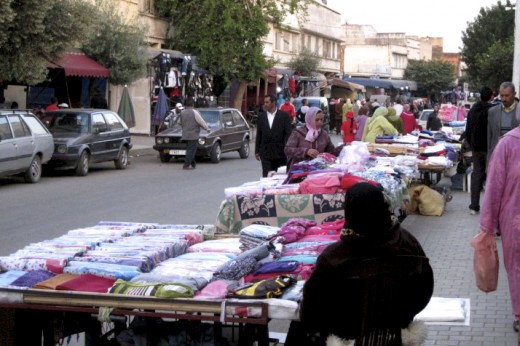 New clothes in tow we headed back to our hotel for dinner. I don't remember a lot about the meal other than the band and dancers that performed during the meal. Wow, just wow, is about all I can say about that. Our room was just above the dining room so I know for sure that the music ended at 11:00 PM, which turned out to be the exact moment I turned out the light ending our first full day in Morocco.