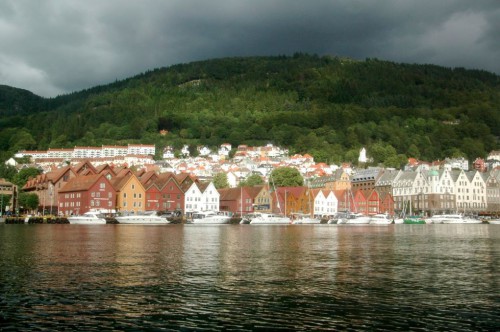 I've been struggling all week trying to determine what to write regarding our trip to Norway. I mean, I could tell you about our train trip to Bergen and return trip through the fjords. That could be an entire blog. I could tell you about how many relatives we met and what that all meant to my husband. That could be an entire blog. Or, I could give you a day-by-day breakdown about everything we did. That would take several blogs and probably bore you to tears. And, somehow that reminds me of the old "let me show you the two-hour slide show of our latest trip" story. We don't want that. Instead, I decided to tell you about just a few of my favorite moments.
But first, to help this all make sense, I have to share a little bit about how we ended up in Norway. John's grandfather grew up there. He came to the United States in 1910 leaving behind a fiancé (who later joined him) and several brothers and sisters. We stayed with John's dad's cousin and his wife, Harald and Anna, on the dairy farm in Kolbu (north of Oslo) where John's grandfather grew up. I believe the farm has been in the Holte family for about 300 years.  While we were there we met several of John's second cousins from both sides of the family and other cousins of his dad's. They were all very gracious and seemed pleased to meet us. I felt kind of like a rock star among Holte relatives knowing, of course, that without John I've got nothing!
O.K., with all that said, I will proceed to my favorite moments:
Meeting Helga – I loved Helga the moment I met her. She is Anna's 90-year-old aunt. We drove to her house on Tuesday morning to park our car before leaving on the train to Bergen. She embraced me in a big hug the moment we met and I just knew that if I spoke Norwegian, or if she spoke English, we'd be fast friends. Gorgeous flowers cascaded off her little balcony and the living room coffee table was set with a beautiful tablecloth and fine china in anticipation of our arrival.  We sat for tea (despite the fact that coffee is apparently the official drink of Norway) and a chat (or as I like to call it, smiling time) with Helga before we headed out to catch the bus to the train station at the stop right across the street. She watched us board the bus from her balcony so she could wave goodbye. Oh so sweet!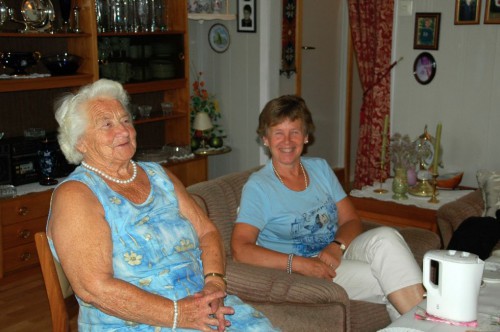 Train Ride to Bergen – Norway is a beautiful country. I mean strikingly beautiful! Bergen was on our list of "things we wanted to see in Norway" and the train is the easiest and safest way to get there. It's a five-hour trip and the sway of the train threatened to lull me to sleep more than once but it was just too beautiful to miss any part of it.
The Fjords – We basically did the "Norway in a Nutshell" tour which took us on a bus down the steep mountain of Stalheimskleiva, through the Aurlandsfjord and the narrow Nærøyfjord, and along the Flåm Railway. Despite cloudy skies, the whole day was spectacular; my pictures, however, were not. I have to be honest here. I didn't even know what a fjord was until we knew we'd be going through one in Norway. I had to look it up. Basically, a fjord is a narrow inlet of the ocean between cliffs or steep slopes. What's not to love? Mountains and oceans are my very favorite! Add in a few waterfalls and a couple of porpoises and you have the makings of a memorable day.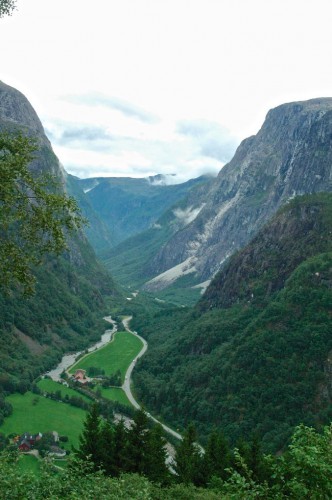 John's Great-Great-Grandpa's Bell – John's great-great-grandfather was a bell maker and John wanted to see one of the bells he'd made. We made a little trip to a nearby town called Hoff where one of his bells is still in use. We had to walk up a total of 86 steps (yes, I counted), through a doorway that said something that I think translated to "only authorized people past this door" (we'd called ahead so I suppose you could say we were authorized) and past a dead bat (thankfully beyond the smelly stage) to get to the bell. We stood for awhile, looked at the bell made in 1871, took pictures and when John could stand it no longer he reached up, grabbed the bell clapper and gave it one good GONG. And then we left . . . . quickly . . . . before the police could arrive.
More Bell Ringing – It is common for farms in Norway to have a bell tower on a building that looks to me like a storage shed; a very nice storage shed. The bells were used to let the family know that it was time for dinner before everyone had watches and cell phones. Anna and Harald didn't actually have a bell until a few years ago when they purchased a bell at an auction that had been made by one of the sons of John's great-great-grandfather. The day before we left we went to take pictures of this bell and with no fear of any authorities coming, John was able to ring it to his hearts content. Now, just watching the joy on his face as he rang it would have been fun enough but what made it one of my favorite moments was that the cows all came running – full speed – to see what all the ruckus was about. And then they just stood there looking at us like "you rang?" These cows aren't usually called to their food by bells so we aren't sure why they came running but it was seriously funny to watch.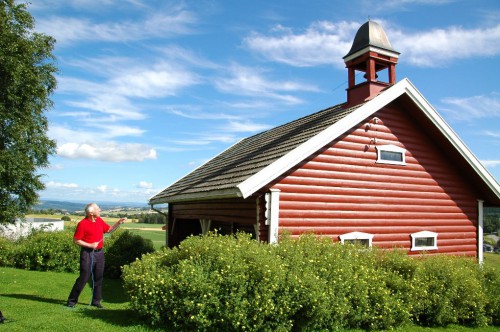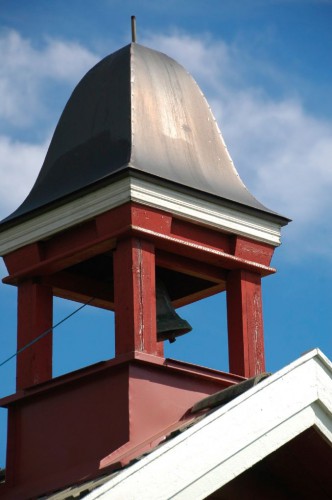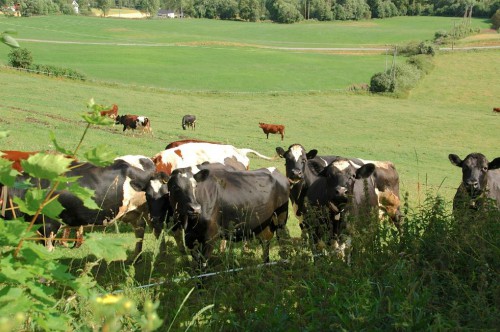 Mountain Lake – O.K., one last favorite (because this blog is starting to mimic one of those "two-hour slide shows.") On our last day in Norway we went to Anna and Harald's cabin which sets on a mountain lake about 20 minutes from their home. A fabulous setting, spectacular weather, and a delicious lunch all combined for a perfect ending to our trip.