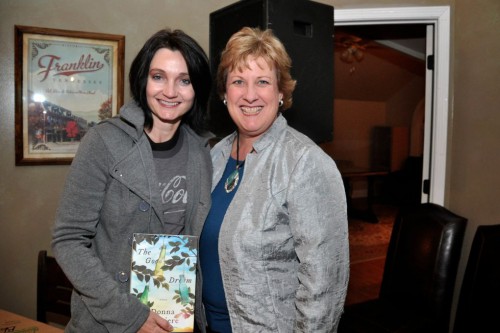 If you've read my blog for long you know I like to throw in an occasional book review now and again. And since it's the beginning of the Christmas season I thought I'd tell you about a few Christmas books I've enjoyed. A couple of them I read last year and I've been waiting ALL this time to tell you about them. You have no idea the self-discipline that required! The other thing about these books is that I've met all of the authors and a couple of them I consider friends. Fun, huh?
Christmas Jars – by Jason F. Wright
I met Jason on a flight to Boise, Idaho a couple of years ago. He was sitting across from me and I noticed he was doing a lot of typing. While it's not unusual to see someone typing on the plane, there is a difference between typing a report and typing a manuscript. He was clearly typing a manuscript. I verified this by peeking over his shoulder. (Yes, I snooped.) When we landed and were gathering our belongings I said, "Are you a writer?" He told me he was and had been working on a magazine article. Then he mentioned that he had written a few books. I asked him if any of them were ones I might have read and he casually said, "Well, Christmas Jars is probably my best known book." I looked it up when I got to my destination and um, yeah, it's kind of well known. Like NEW YORK TIMES BESTSELLER KNOWN! And, wow, I can see why it's a best seller. Great book!
The story begins with a 20-something reporter, Hope, spending her first Christmas Eve without her adoptive mother. To make matters worse, her apartment is robbed. While the police are processing the crime scene she steps outside for a few minutes to compose herself. When she returns she finds a jar filled with coins and small bills, tucked inside a paper bag, just inside the doorway of her apartment. Being the newswoman that she is, Hope begins a search to find her benefactor, but what she finds is so much more. Reading this book might even inspire you to start your own Christmas Jar tradition. If you do my address is . . . . (just kidding.)
The Christmas Hope – by Donna VanLiere
The entire time I was reading The Christmas Hope I kept thinking that I knew this story, like maybe I'd seen it in movie form. Either that, or I had a very vivid imagination and memory of the first time I'd read it. I could "see" the main characters, the rooms, even the office and, as it turns out, I have seen the movie and loved it; just the way I loved the book.
In the story, Patrica and her husband are just barely holding what's left of their marriage together. They live in the same house, at least, but that's about it. Grief over the loss of their son has left them embittered and depressed. One day just before Christmas, Patricia, who works as a social worker, brings home five-year-old Emily whose mother has just died. It's against all the rules but there was no place else for Emily to go. As it turns out, breaking the rules is exactly what this family needs to turn things around.
I had the privilege of meeting Donna VanLiere last month when I was in Franklin, Tennessee for an event put on by Women of Faith speaker and author, Patsy Clairmont. On Saturday night Patsy had a few of her friends join us for dinner and a session on creativity. One of Patsy's creative friends is Donna VanLiere. She, too, is a New York Times Best-Selling author and read us a portion of her newest book, The Good Dream. She used her best southern accent and had us all laughing as she finished out the chapter. I can't wait to read it. Donna is the one whom I'm pictured with at the top of this blog.
The CHRISTmas Boy – by Steven Gamble
Long before I met Steve Gamble our family enjoyed his music at The Gamble Family Christmas concert held at Northwestern College (now University of Northwestern – St. Paul). They would put up a beautiful set and the entire Gamble Family would entertain with songs and stories. It was one of our favorite Christmas outings. One of the songs they would sing was about a little boy that grew up in the Blue Ridge Mountains and had never really heard of Christmas. This little guy knew all about Christ though, so when he saw the word "Christmas" he pronounced it "CHRISTmas."
Steve's book is a take-off from that song, although it's possible that the story was in Steve's head before the song ever came to be. I should ask him. My husband, John and I met Steve, and his wife, Tammy, about fifteen years ago when we were attending the same church. Though we are both at different churches now and 70 miles separate our homes we still see each other every so often. He brought a copy of his book to John one day when he came down to visit. I made sure to call him before his next visit with a request for more copies that I could use as gifts.
As for the storyline – Young Nick ends up in the town of Stewartville one Christmas in search of his Uncle Nat after the loss of his mom and Nana. The whole town falls in love with this sweet little boy who pronounces Christmas with the emphasis on CHRIST. A beautiful story ensues and if the Hallmark Company doesn't pick this book as the basis for one of their Christmas movies, I'm going to be sorely disappointed.
The CHRISTmas Boy is small enough to be a perfect stocking stuffer for the readers in your family. You can get a copy directly from Steve by email; tsgamble@frontiernet.net , or phone; 651-257-1005 or mail; 25605 Quail Ridge Trail, Lindstrom, MN, 55045. Cost is $10.00 ea. plus $2.00 P&H
Whoa, this blog is getting very long. But, I can't stop until I tell you about one more book.
The Bell – by Charles Scott Cornwell
The Bell is a sweet little children's book, suitable for "children" of all ages. The author, Scott Cornwell (as I know him), used to attend our church before his job took him, his sweet wife, Kari, and their two daughters back to their southern roots. While they lived here in Minnesota, Scott volunteered one year to ring the bell for the Salvation Army bucket at the Mall of America. Discovering his bell had a broken stem that had been repaired with a washer started a story in him that just had to be told. Though the story is about Bella, a small gold bell used by Salvation Army volunteers for only a few weeks each year, it's just as much about seeing the potential in others when they can't see it in themselves. It would be a great gift for the both the young and the old in your family.
I hope you take the time to enjoy at least one Christmas story during this season. It might be just the perfect thing to help you "de-stress" in the busyness of December.