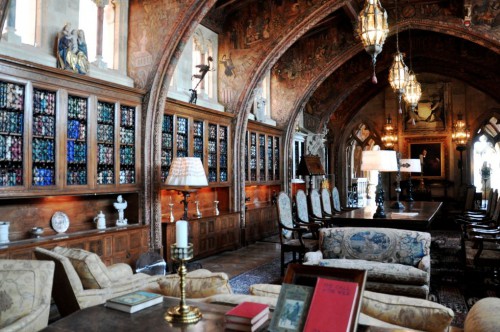 The picture you see here was taken last spring at Hearst Castle just north of Cambria, California. It is the "Gothic library" and houses over 3500 books. Can you imagine owning 3500 books? Who would ever have time to read all of them? I did the math and figured that if you read 50 books per year it would take 70 years to read all of those books (and that's not all he owned.) On my girlfriend's 40th birthday she walked into the library and lamented, "How will I ever read all these books in my lifetime?" It still makes me laugh to think about it but she does have a point: so many books, so little time.
My original purpose for this blog was to tell you about a few books I've been reading but you'll just have to wait for that while I go down this rabbit hole.
Thinking about someone having enough books to read 50 in a year without running out for 70 years made me wonder how many books the average American reads in a year. Enter Google Search. From my quick and limited research I learned that the average number of books read by Americans in one year is 17. But get this! I read about one woman who reads five to 15 books EVERY WEEK! She's either a very fast reader or doesn't have a life outside of books. I wonder if she meant children's books? The most startling thing I discovered though is this: 28 Percent of Americans have not read A SINGLE BOOK in the past year. Not one! That's just sad.
If you're part of that 28% (or even if you're not) maybe you'd like one of the books I've read recently.
Mary Poppins by Dr. P. L. Travers – When I saw Saving Mr. Banks, the movie about the making of the movie Mary Poppins, I decided it would be fun to read the old children's classic so loved by Walt Disney's daughter. So yes, I read a children's book. It's easy to see why Walt's daughter was so enthralled by the book and wanted her dad to make it into a movie. It is quite a delightful fantasy full of magical fun. There were a couple of spots that troubled me from a Christian perspective however: the main one being a big birthday party for Mary Poppins at which all the animals in the zoo are bowing down to Mary as though she's some supreme being. If you plan to have your child read this, or want to read it to them, that could make for a good discussion point about bowing down to God alone. Another option would be to just skip that chapter (assuming you're doing the reading and have read ahead.) For the most part though, it's quite a delightful and entertaining book.
All In: You Are One Decision Away From a Totally Different Life by Mark Batterson – This book, by the lead pastor of National Community Church, is incredible! But I have to warn you, it'll challenge the way you live out your life as a Christian. Mark encourages the reader to go all in with Jesus, asking Him to LEAD us instead of deciding what we're going to do and then asking Jesus to bless it. Oh, ouch! But really, why would we not want to go ALL IN with Jesus when we know His plan is SO much better than our own? If you read this book get ready to change your life – in the best way possible.
Blessings for the Evening by Susie Larson – First of all, Susie Larson is one of my all-time favorite speakers. She's simply an amazing Bible teacher and totally real. For the past year or two I've been following her on Facebook and I suppose it's been over a year now that she's started posting an End of the Day Blessing. I kid you not; there are days when it seems as though Susie Larson has been listening to the conversations going on in my head. This book is a compilation of her prayers, along with a scripture verse for each day, super-imposed over some of the most gorgeous photos you've ever seen. It only takes about a minute to read through the scripture and the blessing each night, but wow, what a fabulous way to end the day. After John got cancer we started reading a blessing together each night before going to sleep. They leave us feeling as though God has wrapped His arms around us and is tucking us in for the night filled with his peace. Not a bad way to end the day. By the way, word on the street is that there are more "Blessings" books in the works. I can't wait!
I hope you can take some time today to enjoy a few moments in a good book. You won't regret it.