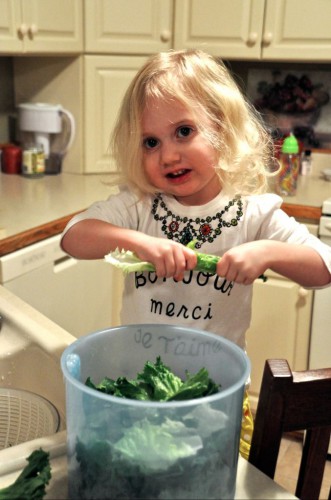 You all know how I love to cook. NOT! But, a friend of mine once told me, "If you have to do the time, you might has well have the tools with which to do it." So, I decided that today would be a good day to tell you about a couple of my favorite kitchen tools. Otherwise, I'd have to whine, I mean write about the never-ending winter we have going on here in Minnesota and well, no one needs to dwell on that subject.
I actually have quite a few favorite cooking tools but today I'm just going to focus on those I use for salad creations. And yes, I do recognize that most salad preparations require absolutely no actual cooking but hey, if I'm in the kitchen, and using utensils, I call it cooking.
I have two favorite "salad gadgets": a salad spinner and a lettuce keeper. I know that most of you probably buy your lettuce already washed and in one of those handy little bags or boxes. And really, the guy who thought of that should get some sort of Salad Oscar. Except, in my experience, especially with darker leaf lettuce, the "salads in a bag or box" don't have much staying power. It's possible that the short life span of "salad in a bag" has as much to do with the fact that I live in a small Midwestern town as it does with that salad's staying power. I mean who even knows how many other places that salad has been before it arrives on the shelf in my grocery store? So, the "dead-in-two-days" issue coupled with a (thankfully) brief and odd intolerance to romaine lettuce led me back to buying the fresh lettuce straight out of the dirt it was grown in. Maybe it's because I buy organic lettuce, but wow, there is a BUNCH of dirt to deal with some days. Enter the salad spinner.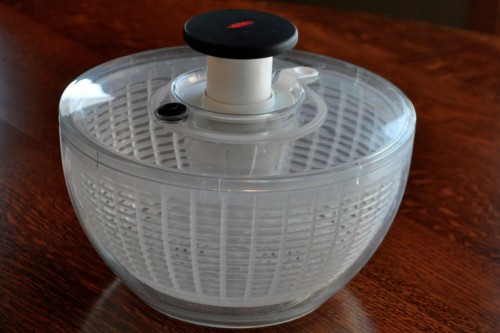 The salad spinner is really a boatload of fun. It's kind of like a spinning top for big people. Generally, I buy green or red leaf lettuce and spinach to combine together. I used to fill my sink with water, throw all the leaf lettuce in there and then pull out a few leaves at a time to tear apart and dry in the spinner. The problem with this plan was that it required that I clean the sink first and that could slow the whole process down by two to three days. Thankfully, my son taught me a better method. Now I just throw a few leaves into the spinner, fill it with water, swish it around a bit, pick up the basket portion that the lettuce is sitting in, and dump out the dirty water. Then, I spin it dry and tear it apart to throw into the lettuce keeper. Obviously the spinner's job is to get rid of excess water.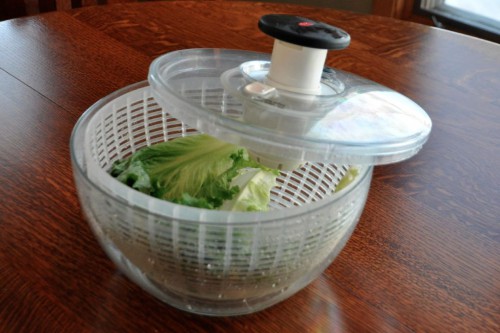 Like I said, after the lettuce is washed it goes into the salad keeper. The one I show here is the jumbo version.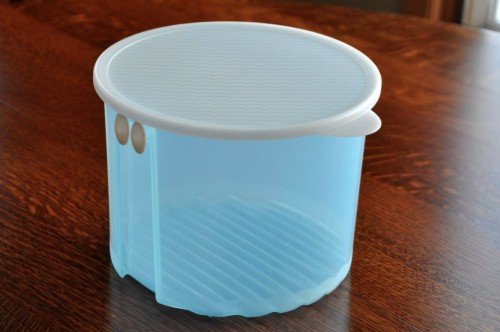 I bought this from a Tupperware dealer but when I searched for it so I could include a link I realized that it's been discontinued. Not to worry, they've redesigned the product so now it's even better. (At least that's how they are advertising it. I have no reason to question them.) There are smaller versions available also, and they aren't just for lettuce; they're great for keeping all kinds of fruits and vegetables fresh. I use the jumbo size because we like salad, a lot, and I prefer to come home from the grocery story, wash all the lettuce and have it all ready to grab whenever I want to make one. So, I mix my leafy lettuce together with the spinach and voila, crispy salad for at least a week. No more slimy greens. The beauty of the lettuce keeper is that it doesn't just keep the lettuce fresh for a long time, it also makes it more crisp. I don't know how. It's like magic!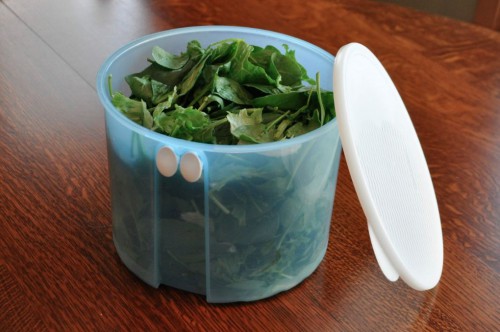 By the way, as you can see from the photo at the top, my granddaughter, Amelia, LOVES to wash and tear lettuce. I think it's the spinning part that is her favorite but she seems to enjoy tearing the lettuce up, too. So, if you're looking for an activity to keep a toddler busy, you might consider investing in these products. It's like doubling your investment.
Since you've made it this far you really deserve a salad recipe to go along with the salad gadget information. I developed this one by combining a bunch of different recipes with the ingredients I had in the refrigerator. I also used it in an effort to improve my hemoglobin a few years ago after surgery. Let's call it Nancy's Hemoglobin Raising Salad. No, that doesn't sound appetizing. How about, Sweet Spinach Craisin Salad? Yes, that will do nicely.
Salad Ingredients:
Spinach combined with Leaf Lettuce or Romaine (as much as you'd like)
A handful of Dried Cranberries (I prefer the sweetened variety) or Craisins
Sliced onions to suit your taste
Shredded Swiss cheese – I developed this recipe in my pre-lactose intolerant days. It's tastes fine without the cheese but I have to say it's even more delicious with it.
Cut up apples or pears add a nice touch, especially if you are skipping the Swiss cheese.
A handful of cashews to add the perfect amount of salt and texture
Mix together and top with dressing.
My favorite dressing for this salad is the one I use on the oft-prepared Mandarin Orange Salad but you can also use any poppy seed dressing you like. Here's the Mandarin Orange Salad Dressing Recipe that I use:
½ C. Oil
4 T. sugar (You could cut this down to 2 T. without a noticeable change in flavor. Or use honey, or Stevia.)
4 T. apple cider vinegar
2 T. parsley
1 t. salt
Dash Pepper
Dash Tabasco
Mix together with an immersion or regular blender.
Tip: if using an immersion blender, hold tightly to the container to prevent it from tipping over and spraying oil all over the kitchen. Don't ask. It wasn't pretty.
Disclaimer: Neither OXO (who makes the salad spinner) nor Tupperware are paying me to adverise their products. I just love them and wanted to share the joy of having some good salad gadgets. You're welcome OXO and Tupperware.