In the summer I don't like to cook much. Who am I kidding? If I never had to cook at all and still have delicious meals show up on my table every night, I'd be thrilled. But summer just seems a little bit lazier. Before I even blink it's 5:00 and I've not given dinner one thought. Enter my genius plan of having grilled, diced chicken in the freezer. With bite-sized pieces of chicken ready to go the dinner possibilities are endless.
Whenever we grill chicken I always throw at least two to four extra pieces on the grill. If I'm making a more Asian tasting chicken, I will marinade another few pieces in my favorite basic marinade and cook them at the same time. (More on the marinades in a minute.) After we finish our meal I cut up the extra meat and put about a cup of diced chicken into small, plastic freezer bags. For more than two people just increase the amount of chicken per bag or use less chicken per salad.
In the spirit of friendship, I thought I'd share some of my tried and true "what can I do with diced chicken tonight?" recipes with you. That's what friends do, right? We share. I'm going to focus on salads today because they are perfect for summer.
I found this basic chicken marinade I mentioned above on the Internet a few years ago. It would work with most every one of these salads although as you read through them you'll find lots of other options, too.
GRILLED MARINATED CHICKEN BREASTS


(AKA My Favorite Basic Marinade)
1 cup olive oil
¼ cup white vinegar
2 tablespoons lemon juice
2 tablespoons Dijon Style Mustard
1 teaspoon honey
1 clove garlic, finely minced
½ teaspoon black pepper
½ teaspoon dried red pepper flakes
1 teaspoon dried sweet basil
1 teaspoon dried thyme
2 teaspoons salt (optional)
6 chicken breasts
Whisk together ingredients for marinade. Add chicken, coat well. Cover and chill for at least two hours or overnight. Drain chicken, grill 15 – 20 minutes or until thoroughly cooked. Turn and brush with marinade every 5 – 10 minutes.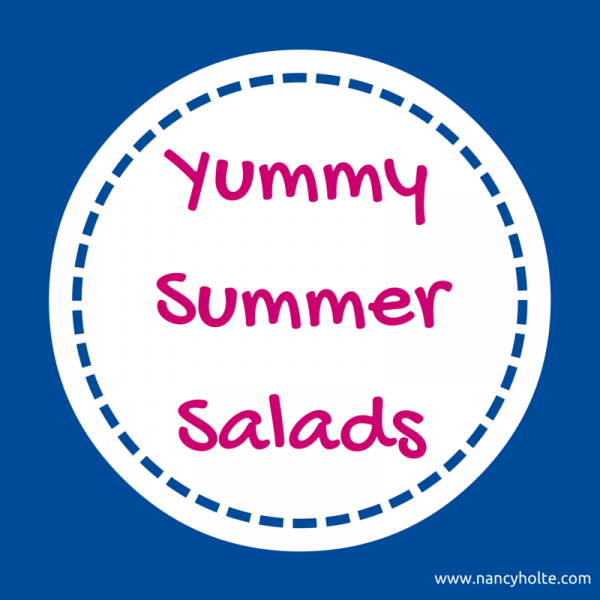 My friend, Kirsten Shabaz, graciously shared the next two salad/dressing recipes with me (and allowed me to pass them along to you.) She's an award-winning chef, Fresh Food Educator at Valley Natural Foods, and an all-around caring, loving, and generous person. (As a side note, Kirsten made over a dozen freezer meals for us when John had his transplant last year. It was such a huge blessing!)
Without further ado, here are some fun summer salads for you to try.
MAPLE-DIJON SALAD
The measurements (and even the ingredients) are up to you but here are some suggestions:
Lettuce
Diced Chicken (see marinade dressing below)
Celery, diced
Green Onions, diced
Strawberries, cut into bite-sized pieces
Nectarines, cut into bite-sized pieces
Grapes, halved
Feta or Goat cheese
Walnuts or Pecans, chopped (I used maple-glazed pecans, which I bought at the store, when I made it – yum!)
And now for the good stuff – the dressing/marinade:
Maple Dijon Dressing and Marinade
1/3 cup maple syrup
1/3 cup apple cider vinegar
1 tablespoon Dijon mustard
1 small shallot, minced (If, like me, you need help finding shallots in the store, look near the garlic. The two are close relatives.)
1 teaspoon salt
½ teaspoon ground black pepper
½ cup olive oil
Dressing: Put everything except the oil into the blender. With the speed on low, pour oil in the top of the lid for the blender slowly as it's mixing. This will emulsify the ingredients so you won't need to shake each time you want to use it.
Marinade: The marinade doesn't need to be emulsified but if you already have the dressing made feel free to use it as the marinade. Otherwise, just whisk all ingredients together, pour over chicken & marinate for at least 8 hours.
SAVORY BALSAMIC SALAD 
(I just made up that name as I have no idea what it's really called.) Again, the measurements (and even the ingredients) are up to you but here are some suggestions:
Lettuce
Diced Chicken (You can use either of the chicken marinades mentioned above or you can use the dressing recipe from below.)
Cucumbers, sliced and quartered
Tomatoes (I always use grape tomatoes that I cut in half.)
Celery, diced
Hard-Boiled Eggs
Green onions, diced
Feta or Goat Cheese
Cashews, walnuts, pecans, pumpkin seeds. (Whatever suits your fancy.)
Balsamic Salad Dressing/Marinade
1/2 cup olive oil
1/3 cup balsamic vinegar
2 cloves garlic, minced
1 teaspoon salt
1/2 teaspoon black pepper
1/2 teaspoon dried thyme
1 tablespoon Dijon mustard.
CHICKEN COBB SALAD
Did you know the original Chicken Cobb salad was created out of leftovers late one night when the owner of the Hollywood Brown Derby Restaurant was famished at the end of a long day? According to Wikipedia there is some debate about whether the owner, Robert Howard Cobb or his chef, Chuck Wilson created it but either way I'm glad he did. It's one of my favorites (with a little revision.) It was also suggested on Wikipedia that to remember the ingredients you could use the acronym EAT COBB for eggs, avocadoes, tomatoes, chicken, onion, bacon, blue cheese. I've also heard (though I didn't find any evidence during my five-minute Google search) that a Cobb salad is always to be served with the ingredients lined up on top of the lettuce. It looks pretty like that but I'm more of a "throw it all in the bowl" kind of girl.
So, here's my version of a Chicken Cobb Salad:
Lettuce
Diced Chicken 
Avocado, diced
Grape Tomatoes, halved
Hard Boiled Eggs, chopped
Green Onions, diced
Bacon, crisply cooked and broken into pieces (bacon makes everything better!)
Blue Cheese Crumbles – I don't use blue cheese mainly because I don't care for it, but if you want it to be authentic, throw it in.
The dressing is up to you. Apparently Mr. Cobb preferred a red-wine vinaigrette but I've often seen it served with blue cheese or ranch dressing. I've also used the Zesty French Dressing found in my Taco Salad to Die For Blog Post.
When you get tired of making green salads with your chicken there are always pasta salads. Here's one of my favorites!
CHICKEN PASTA SALAD
This is a great recipe for a crowd. It makes a LOT and it tastes good leftover, too.
2 cup or more of cubed chicken
3 tablespoons chopped onion (I usually put a little more in because I LOVE onions)
1 teaspoon salt
1 cup grapes, halved
1 cup chopped celery
1 cup mandarin oranges, halved and drained on a paper towel
1 cup dry rose marina pasta OR acini de pepe pasta, cooked as directed
1 cup mayonnaise
Mix the above ingredients together the day before serving.
Just before serving add:
1 cup cream – whipped (This might be why it's so yummy! Don't add sugar.)
½ cup slivered almonds
As you can see, there's LOTS you can do with just a cup or so of diced chicken. If you get tired of salads you could try my Lemony Chicken Pasta Recipe, or make some soup, barbecue chicken pizza, or a chicken salad sandwich. If you plan ahead you could grill on Sunday and use diced chicken every night of the week right up to the minute your family says, "Are we ever going to have a hamburger again?"
Like I said, "Got Chicken? – Dinner is Practically Ready!" Enjoy your summer!