This past week my husband and I were in Maui celebrating our 40th wedding anniversary. (The actual anniversary was last August but who wants to go to Hawaii in August?) Maui is simply one of the most beautiful spots on the planet! (Not that I've seen EVERY spot on the planet.)
So, this week's post is basically the Internet version of "let me show you the slides from my trip." Of course, the number of people who even know what slides are is fading fast. Truly, they are missing out. There's nothing like gathering in the living room, struggling to get the projection screen up, and having to stop every few minutes to turn an errant slide right side up. That is some real family fun!
Whenever I told someone we were going to Maui I got three tips from those who had been there.
Take the road to Hana.
Buy some banana bread at a roadside stand.
Go on a helicopter ride. (This piece of advice only came from my son, Paul, but it was good advice.)
So, that's what we did. To be honest, we almost skipped the helicopter ride but Paul wouldn't hear of it. Please note: he didn't offer to pay for the helicopter ride but indicated he'd be very disappointed if we skipped it.
The road to Hana was amazing! It has 620 curves and 59 bridges. This is why we decided to take a tour rather than drive it ourselves. There are definitely some down sides to taking a tour – you can't stop when you want, taking pictures out of bus windows is less than ideal, and being picked up at 6:00 in the morning just doesn't say, "vacation." The upside, however, is you get to learn some interesting information and at the end of the day there have been no disagreements about the other person's driving.
This first picture from the road to Hana was at Ke'anae peninsula. All of those rocks you see are lava rocks. It was a beautiful spot and the colors in the water – unbelievably gorgeous!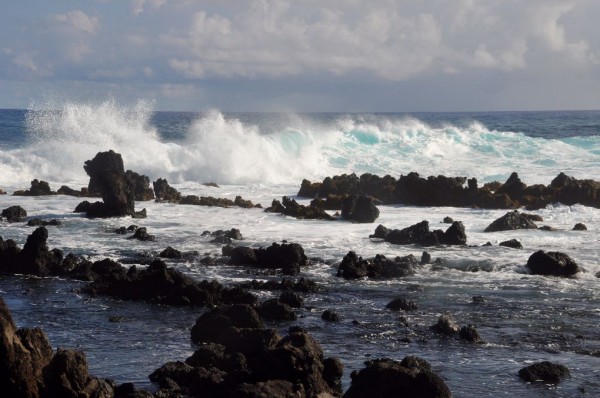 Down the road aways is Wai'anapanapa State Park that is famous for it's black sand beach, Pa'iloa.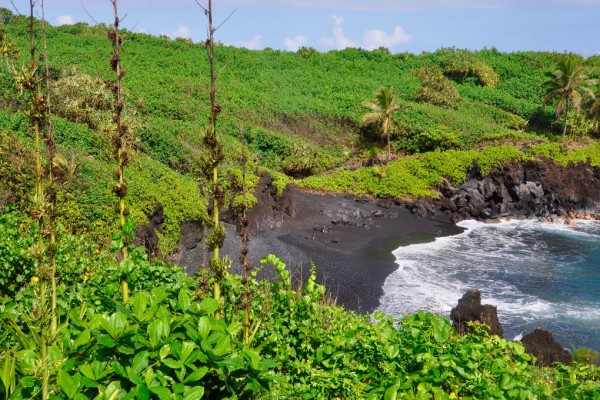 My favorite part of the beach was this cave. There is just something about the adventure of crawling into a cave that still excites me. Of course, it's not as easy to crawl into as it was when I was a kid, especially because the opening at the entrance was only about 4.5 feet high. If you ever go to this cave (or any place with a low clearance) here's my tip: bend over and go in backwards. It's way easier and you won't look like a duck. You'll still look stupid but not like a duck. This advice is only good if it's a short distance before you can clear the low ceiling – as was the case in this cave.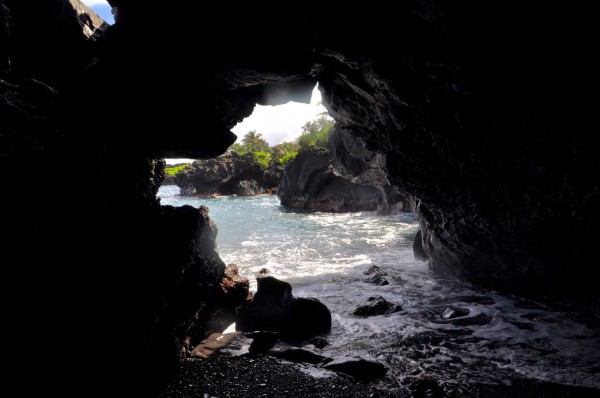 About the time we arrived at this waterfall a downpour started. But, I love waterfalls and I was determined to get a picture. So, I borrowed John's hat, put a towel over my camera and got out of the bus. I was a sight to behold!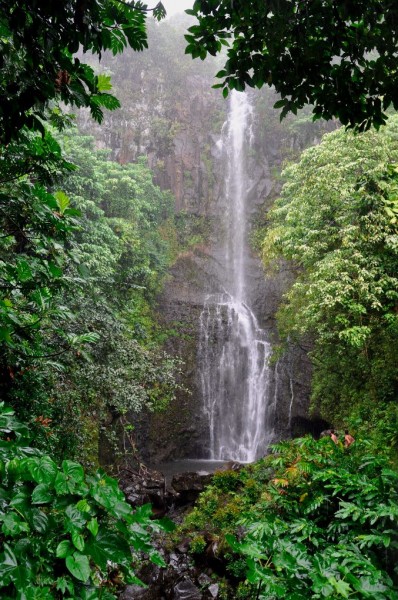 This next picture is horrible but you'll soon see why I included it. One of our last stops was at 'Ohe'o Gulch – also known as the Seven Sacred Pools. When you see pictures of it on the internet there is usually someone in the pool standing behind the waterfall and it looks so inviting. Since John didn't want to swim I gave him my phone to take a picture of me by the waterfall. I wanted proof should anyone doubt I did it. The tricky part of getting to the waterfall (which, due to a drought, was far less impressive than the online pictures) was getting to this pool. It took a bit of herculean effort (at least for me) and required crossing over a number of very slippery rocks, but, I was determined to swim! So, when you look at this picture, ignore the man in the middle – we don't know him. Ignore the woman on the right who looks like she's smiling for the picture but in reality is watching her son on the slippery rocks. Look instead to the back of the woman's head just to the left of the red-headed mom. That's me – swimming towards the waterfall. I'M NOT EVEN FACING THE CAMERA! The only people who might recognize me are the ones who sit behind me in church every week.
By the way, there is nothing sacred about the pools – they just named them such because they thought it would attract more visitors. AND, when there's been enough rain, there are actually 24 pools. It's all in the marketing, people.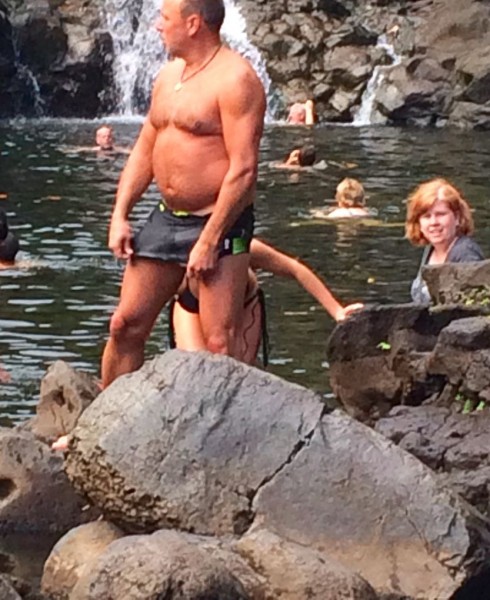 The Hana road is where we bought that banana bread everyone raves about. Apparently what makes this banana bread different is that it's made from apple bananas. Apple bananas have a very unique flavor; there's a little bit of tartness to them and a firmer texture. Our condo neighbor wanted to be sure we tried them so she bought a couple for us. They're teeny little things (which you probably can't tell from this picture) but very good.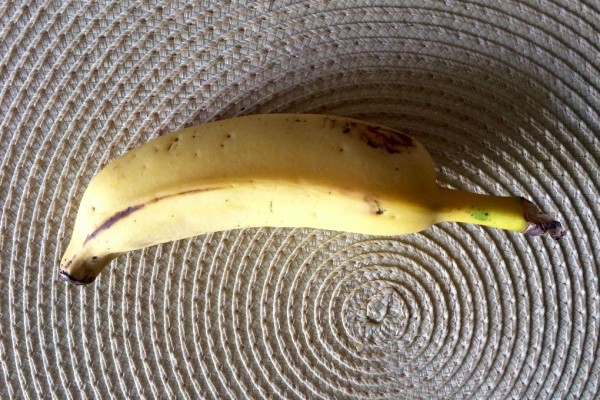 One of the other advantages of a tour is being able to go beyond Hana on a one-lane road where people with rental cars aren't supposed to drive (that's not saying they don't). I would have been a wreck had we been driving it but our guide was an amazing driver so I never feared going over the edge (which was so very close).
This road led to the backside of the Haleakala Crater.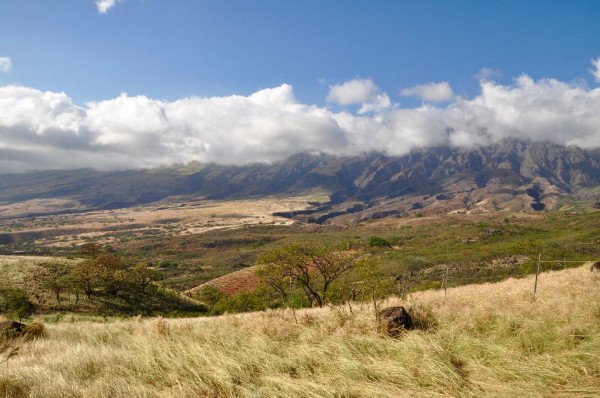 Our helicopter tour was a few days later. We flew over west Maui and the east side of Molokai where leprosy, later known as Hansen's disease, patients were sent between the years of 1866-1969. The flight was every bit as amazing as Paul told us it would be. My favorite part was watching the water; there are just so many variations of blue!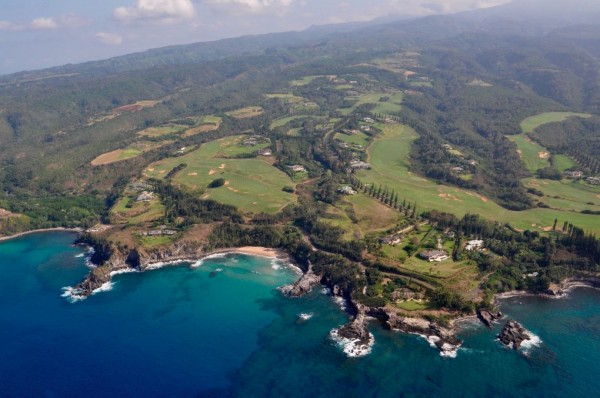 We were able to see a humpback whale cow and calf swimming side by side which was pretty cool. (Sorry, no pictures of that. I tried, but no luck.)
But, there were other beautiful sights like these sea cliffs on Molokai.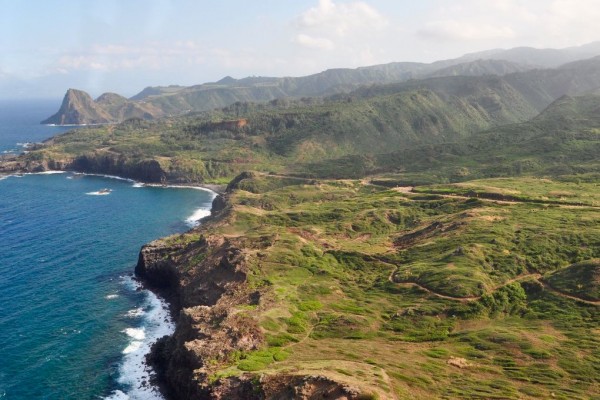 And this picture doesn't even do justice to this incredible waterfall. It went on for miles!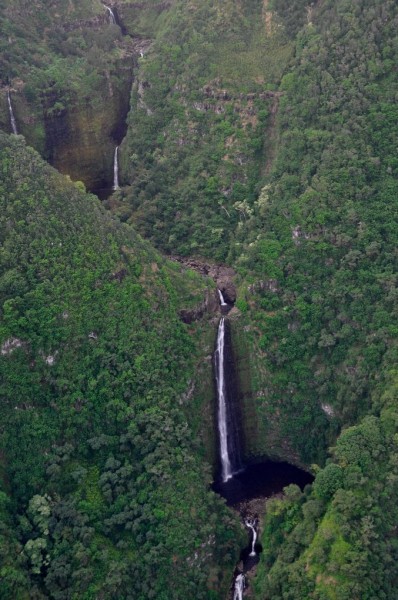 After our helicopter tour we drove behind the heliport to take a picture of the sugar cane fields. They don't make for spectacular pictures but this is the last year it will be grown on any of the Hawaiian islands. What a sad day to lose such an iconic part of Hawaiian history.  I suppose the $30 million loss after last year's crop had a lot to do with the decision.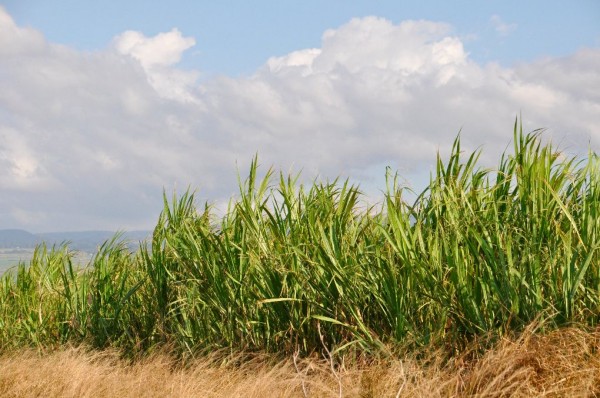 This post has gotten much too long (not unlike slide shows of the past) but I have one more story. On our last day in Maui we had lots of time to kill between the time we checked out of our condo and when our flight left so we decided to drive along the north shore. We called the car rental company to see if this was legal and were told that there is a spot we shouldn't drive past. I asked the representative how I'd know when we got to that spot and he said, "There will be a sign that says, "rental cars not allowed past this point.'"
So we started off, keeping our eyes open for a sign. It was a beautiful drive along the ocean and past lush forests.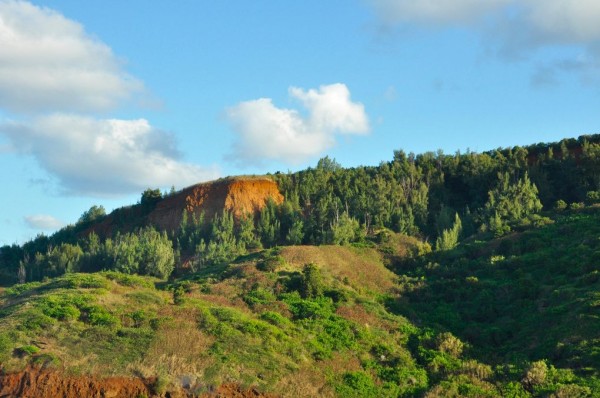 Then, all of a sudden, having seen NO sign about rental cars, we went from a two-lane road to a one-lane, very curvy and nerve-wracking road. At this point we were pretty sure we were way past the acceptable boundaries of our rental car agreement but you can't just turn around on a one-lane road. It was a mile before we found a spot to pull off and head back to civilization.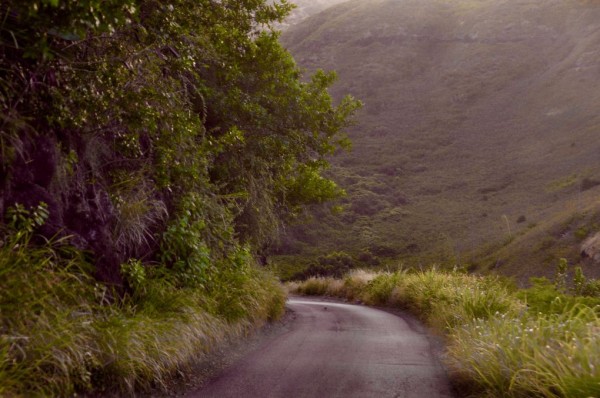 We obviously lived through the experience and got back to civilization just in time to see our last Maui sunset. Not a bad way to end a trip.