It's been awhile since I've posted a blog. Let's just say I was giving my brain a break. John and I just returned from a mission trip to Greece and Cyprus. It was a fabulous trip but it started off a little sketchy. Let me explain.
As we walked through the smoke-filled lobby I was a little concerned. Was this really where we were going to be staying? In the ten years that John and I have been doing mission trips we've often repeated a phrase my friend taught me right before a weekend retreat. In order to keep a good attitude, when something doesn't go the way we'd hoped or expected we say, "It's just the way I like it." It may not be exactly the way we hoped but it's better to change the way you think about it than to become the team member who is always complaining. Whiners aren't fun to be with.
The smoke-filled lobby was at a hostel, which was indeed where we were going to stay. We got checked in and headed to our room. The smoke smell followed us, which immediately made everything look worse than it was. The walking space around the bed was minute and figuring out a place for our suitcases required a huge amount of creativity. The mattress on the bed was only two-inches thick but on the bright side, the sheets were clean and the comforter looked cozy. All in all the room was quite acceptable but somewhat cramped feeling. I put on my best "it's just the way I like it attitude" and headed to dinner with our team.
Sitting by one of our teammates at dinner I asked, "How's your room?" His response surprised me. "It's great!" he replied enthusiastically. In my head I was thinking, "Really? Did he get the good room?" So I questioned him again, "It is?" "Sure," he replied, "You have to remember that we go backpacking quite a bit so we're used to sleeping on the ground and not having a toilet or shower. Here our room has a bed, a toilet, and a shower. We even have a deck!"
I returned to our room that night with a new perspective. I like a firm bed so the mattress was perfect! The room was warm (even warmer once we learned how to turn on the heat) and the bathroom was clean. And guess what? We had our own deck, too! Suddenly I could see how great our room was! God had supplied all our needs. And look at this great view from our deck!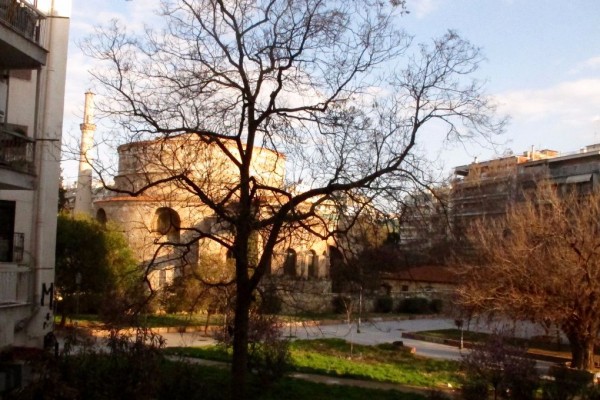 I need to learn from the apostle Paul who said, "I know what it is to be in need, and I know what it is to have plenty. I have learned the secret of being content in any and every situation, whether well fed or hungry, whether living in plenty or in want. I can do all this through him who gives me strength." Philippians 4:12-13
Right now I'd have to say I'm still learning "the secret of being content in any and every situation." I'm so grateful for a patient and loving God who keeps giving me opportunities to learn contentment.