On my Pinterest page I have a board titled "Things to do in Minnesota." On most every pin that has anything to do with food Mickey's Diner is always listed. I'd never been there but this weekend I finally convinced John that it would be a fun thing to do on Sunday morning (being as we'd been to church on Saturday night.)
If you don't know much about Minnesota, you won't know that Mickey's has been part of the St. Paul landscape since 1939. Actually, when I asked my Minnesota-born husband why we'd never been to Mickey's he said, "Where?" So, I guess it's possible to grow up in Minnesota and be unaware of the now historic landmark diner. But, you'd be hard pressed to find a list of "must visit Minnesota restaurants" that doesn't have Mickey's on it. And apparently it's listed as one of America's top ten diners by Gourmet magazine.
Like I said, we chose this past Sunday to give Mickey's a try. Timing is everything, as they say, and trying to get to Mickey's during the Twin Cities Marathon almost put an end to our visit before it ever got started. And let's just say it didn't do our marriage any favors either. But, with a little persistence we managed to find a way around the closed roads that kept us from the route my phone GPS was suggesting, which actually wouldn't have been a good route on any day. Our marriage is still in tact and we managed to have a good time despite our not-so-fun start.
Mickey's isn't very big. It's actually built as a replica of a train dining car right down to it's size. There are four booths that can hold up to four people and about 12 stools at the counter. All were filled when we arrived so we just stood and waited. Let's just say that Mickey's isn't the place to go when you want to have a leisurely brunch with your spouse. I can't see where anyone would look upon you fondly if you just decided to sit and linger over coffee for an hour after your food was gone.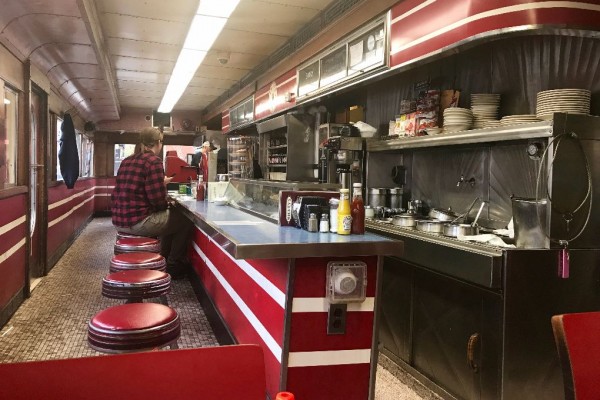 And, Mickey's isn't one of those places you walk into and think, "Wow, what a beautiful restaurant." I felt like it passed the health inspector's perusal because of it's iconic status more than it's cleanliness but, to be fair, the kitchen appeared to be clean and really, the floor was the only thing that could have used some help. I'm sure it's not easy to keep a restaurant spic and span when you're open 24/7.
A New York Times review says this about Mickey's: "Malts so thick you could eat them with a fork, hamburgers so juicy you can use a spoon, and waitresses so ornery you better know exactly what you want by the time they reach you." We didn't have a malt, or a hamburger, but we indeed had one of those ornery waitresses. I really wanted to talk to her about the family that's owned Mickey's since 1939 and wondered if she was part of it. I also wanted to ask her if she'd met any of the famous people who have visited. An impressive list of governors, mayors, senators, news anchors and movie stars is featured on the back cover of the menu.  But, our waitress was clearly too busy bustling around and had no time for chitchat.
I think it's a safe bet to say that if you ever get to Mickey's your food will be good. We just had breakfast and it's hard to mess up breakfast, but my pancakes were delicious and the bacon was cooked to perfection. I'd like to go back sometime for a milkshake and one of those greasy hamburgers but it took me 40 years to get there the first time so we'll see.
There's something about visiting a landmark restaurant that makes the whole experience special. You can imagine the number of people who've been there before you and the stories they could tell.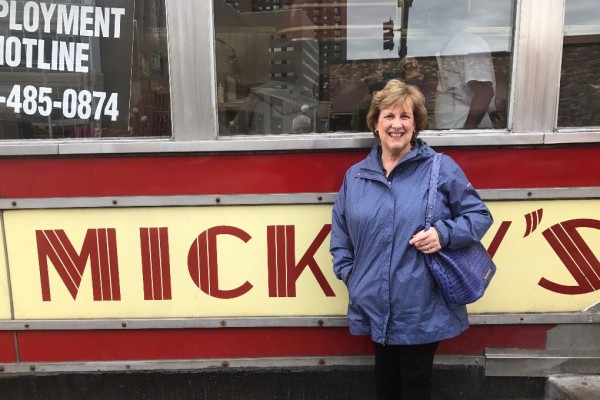 It was a fun morning and on the way home we stopped at a Farmer's Market to stock up on some healthy fruits and vegetables. It just seemed like a wise choice to balance out the diet for the day.