I love to read on my Kindle. I know that some of you prefer paper, but for me, it's a Kindle e-reader. The Kindle has truly changed my reading. I can read faster (due to the increased font size) and thus, I read more and almost always have a book or two that I'm working on. But, here's the downside of the Kindle, free books. I get carried away ordering books when I see them offered for free. I've discovered a lot of great authors this way. I've also read some real doozies! And when I say, I got carried away I mean I may need a book intervention! I took a survey of my unread books and discovered I have over 175!
I decided it was time to start reading all these "freebies" before purchasing any more books. (I'll stick with that plan until I hear about a new book that tempts me.)
And then there are audio books. I decided one day that I didn't have enough years left to finish all the books I want to read so I figured I could make use of my hours in the car by "reading" audio books. Listening to a book also takes the torture out of preparing dinner. (I'm sure I've mentioned my distaste for cooking a time or two.)
Since I started listening to audio books I most always have at least two books going at a time—one audio, and one on my Kindle. People ask me how I keep from getting confused. I generally have a different genre of book going on audio than the one I'm actually reading, but not always. I liken it to watching a movie, and reading a magazine. It's not hard to keep them separate, but I'm amazed at how often they seem to dovetail into each other. The two books I'm currently "reading" are about people who are making major life changes. Both books have me thinking, "Thank God it's them and not me!" Allow me to tell you about them. I won't be able to spoil the ending for you since I'm not there yet.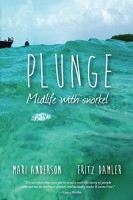 I'm reading Plunge: Midlife with Snorkel by Fritz Damler and Mari Anderson. (It was one of my freebies.) A midlife (think late 40's) couple—Mari and Fritz, living in Albuquerque, New Mexico, decided they wanted to move to a remote island in the Bahamas. The Bahamas part sounds okay, but wait. The move involved buying a boat, a sturdy boat, not a luxury boat, which they would live on for months on end. It was the only feasible way for Mari and Fritz to get to their new locale. They stopped in Florida to pick up supplies for building their entire house right down to the nails, concrete, fixtures, etc. All of the supplies were then put into a shipping container and sent to the island on a freight ship. Once Mari and Fritz arrived on the island, they had to clear the land for their home, which takes days of battling heat, sand flies, mosquitoes, and poisonous trees that plague their property. I'm just not seeing the appeal but then again, I'm not in my 40's and the story isn't over yet. Maybe it's worth it all in the end. Or maybe they get divorced and write the book together to pay off their debt—but I doubt it.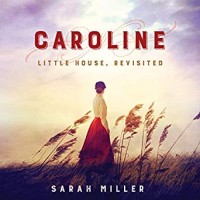 And then I'm listening to Caroline: Little House, Revisited by Sarah Miller. This book is basically a fiction account of what it was like for Ingall's matriarch, Caroline as the family pulled up roots in Pepin, Wisconsin and moved to Kansas. They, too, had mosquitoes to deal with along with nasty weather, wolves, raging rivers and more. I've never given much thought to what it would be like to live in a covered wagon but now that it's been described to me, I'm thinking NO. I do not want to sleep, eat, travel, and store all my earthly goods in a covered wagon, with two bored children underfoot, for months on end. (Especially not while pregnant and wearing a corset!) Just NO, thank you very much.
Maybe I'm not as adventuresome as I like to think I am. Or maybe I'm just spoiled . . . or smart. That's it! I'm smart enough to know that I don't do well with bugs, extreme heat or cold, confined spaces and basic terror. But, it all makes for some good listening, and interesting reading, and that's the joy of books. They take you places you may never go (or want to go) and allow you to explore a world outside your own.
Whether it's an audio book, paper, or e-reader, I hope you're able to enjoy a trip into another world via a good book.