If you live in MN then you know we've been in the middle of a cold and snowy winter. Personally, I haven't been too traumatized by it all but then again, I haven't had to go anyplace. I think, however, that I have a bit of cabin fever. I keep wandering around the house trying to figure out what to do—mostly to avoid what I should be doing.
So, as I was wandering around it came to me that there were things I could do that didn't involve a lot of brainpower. Though my brain is clearly frozen I think, with a little effort I can still be useful. Maybe some of the things on my list will inspire you to come up with your own ideas of things to do when it's too cold, rainy, windy, or miserable to go outside. I call it my "frozen brain list."
Clean out the spice cupboard—Mine is a mess, and I don't really cook that much, which makes the mess even more annoying. It's an easy job, really, so why not? I'm fairly certain that the last time I cleaned out my spice cupboard was in 2008. I know that only because I wrote a blog about it. You might want to read it for some helpful tips about what to throw and what to keep.
But, maybe you just want to use those spices. This next idea might be more fun.
Try a new recipe—I'm not super fond of the kitchen, but since I like to eat I've recently been trying out some new recipes. Over the past few weeks I made shrimp for the first time ever—one recipe was a disaster but the shrimp scampi (Weight Watchers style) that I made was delicious. I also made Slow Cooker Cider-Braised Pulled Chicken-Apple Sandwiches (also WW) that were easy and amazing!
And, then I tried WW "No-Mess Zucchini Bread Pancakes", which were the biggest disaster of all. Like my friend said when she saw this picture on Facebook, "Um, pancakes should never be green."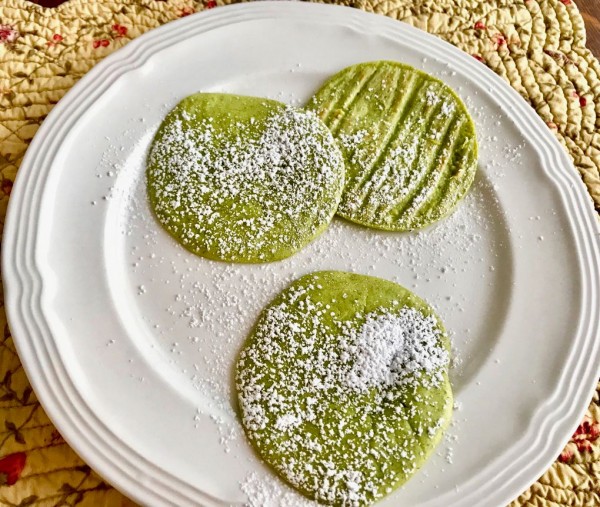 But really, there are lots of fun recipes to try—especially if you enjoy time in the kitchen, or want to mix things up a bit. Which brings me to my next suggestion.
Invite a neighbor over for coffee—Unless you happen to live on a hill and there's a solid layer of ice everywhere you look, anyone under the age of 80 is usually up for a trip across the street. And if your neighbor is truly housebound, try out one of those new recipes and bring something to her (or him, as the case may be). When I was a kid my mom had the neighbor ladies over on a regular basis but it's kind of a lost art these days. Turn off the computer, drag yourself away from the TV, and enjoy a good conversation. You could even do lunch if you're feeling particularly ambitious, or a neighborhood potluck if you want to go wild.
A few other ideas I came up with:
Clean out the "junk drawer."—Come on, you know you've got one.
Clean out your clothes closet.—Spring will be here soon and you'll need space for the new clothes you know you're going to want.
Sort photos—or here's a crazy idea, go through your digital files and send them off to be PRINTED!
Put said photos into a scrapbook.
Read a book—Light the fireplace, burn some candles, cuddle up in a cozy blanket, and get your HYGGE on. Don't forget the hot chocolate or coffee! You never have to twist my arm to get me to sit and read.
And my last one might be the most popular suggestion of all.
Plan a trip to someplace warm—Dream big. And really, if you're available for a sudden escape there are always lots of last minute deals online. My friend tells me that she and her husband love to look for deals on tourradar.com.
What do you like to do when you're stuck inside for days on end? The good news is, winter doesn't last forever. Before you know it you'll be able to get outside and ignore that messy spice cupboard while stuffing a few more things into your junk drawer. Just think about it; 80 degrees, 95 with the heat index, and the beautiful hum of mosquitoes. Ahhh. . .