Last month, John and I went on a mission trip to Thailand – sort of. It was actually a Virtual Mission Trip. Our church usually sends out about 45-50 global (AKA mission) teams in a normal year.
Once it was clear the pandemic wasn't going to go away in the "two weeks to flatten the curve" time frame, our missions team looked for a way to keep people connected to missions without them physically getting on a plane. If you've never talked with a missionary, you might be unaware of the amazing stories they have to tell. Our missions pastor told me he wanted to find a way for people to hear those stories despite the shutdown. Thus, the virtual global team experience was born. With all of the incredible technology available to us, why not use it?
I have to admit; I was skeptical. Personally, I'd rather be stuffed into a coach seat of an A330 for 16 hours than be on Zoom call for 16 minutes, so I had avoided all the previous virtual team opportunities. However, many of my friends had done a virtual team experience and loved it so, when I received an invitation to join Virtual Global Team Thailand, we said yes. We committed to spending three nights on a zoom call for three hours each night. And we loved it! The missionaries worked hard to make the experience interesting and fun.
We learned so much about Thailand, and truthfully, I absorbed more of the information than I probably would have if we'd physically been there. No doubt, this was, in part, because of the lack of jetlag.
The missionaries (two couples) gave us a tour of their neighborhood, a live look at a local marketplace, and a peek inside one of their favorite restaurants. We were able to meet some of their friends and their language teacher. She had put together a teaching video for us, which unfortunately didn't work during our zoom call, but we received it via email after the fact. Sadly, my Thai speaking skills are still acutely lacking.
We also learned about the Buddhist religion and saw pictures of some of their temples.
A couple of things I found interesting:
Every Buddhist home has a spirit house on its property. The residents put food and drinks (something akin to Fanta Orange or Red) out for the spirits to keep them fed. However, the food in the spirit house is later gathered and tossed by the local "spirit house cleaner."
Buddhists believe that there are countless cycles of birth, death, and rebirth. Thus, one of the Five Precepts of Buddhism is to abstain from taking the life of any animal or human. Doing so might mean that you are killing the soul of someone who has died and was reborn as an animal, which I would assume means that they didn't do a great job of accumulating good karma in their previous life. I don't understand how this coincides with their delicious meals of cashew chicken, spicy shrimp soup, or beef curry. I just know I'm pretty excited that our missionary friend shared her recipe for authentic Thai cashew chicken.
The picture at the top of this post is of the White Temple. And the picture here is also at the white temple. One of our missionary friends told us that all of the hands remind her of so many lost souls reaching out for help. It's a sobering thought.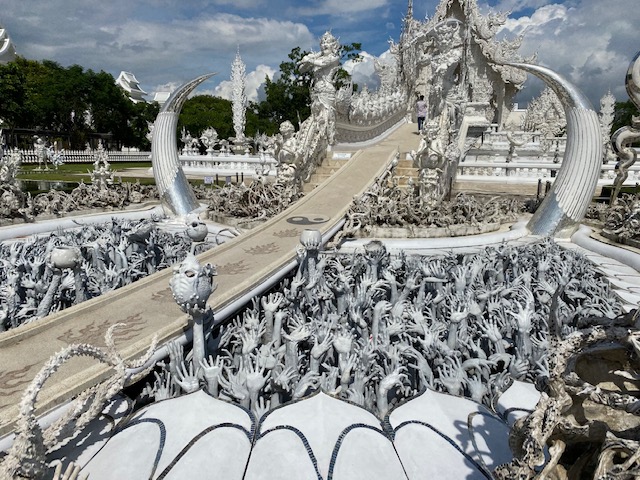 There's so much more to share, but I know I've reached the point where your mind is starting to wander—maybe it's jetlag.
I will close by saying phrawjaw uaypon. (God bless you!).