On Sunday, I needed to get out of the house, so we took a drive in the countryside near our home. It's not the most beautiful time of year in Minnesota, but if you look, you can find something to appreciate most anywhere. I especially wanted to drive past the old flour mill on the outside of town.
In the 1850s and 1860s, there were 21 mills built in Goodhue County in Southern Minnesota. Oxford Mill, shown here, is the only one still standing. It is the second mill of the same name built at this location, the first one being wooden. The Platteville limestone used to build this mill was quarried from a hill a mile or so away.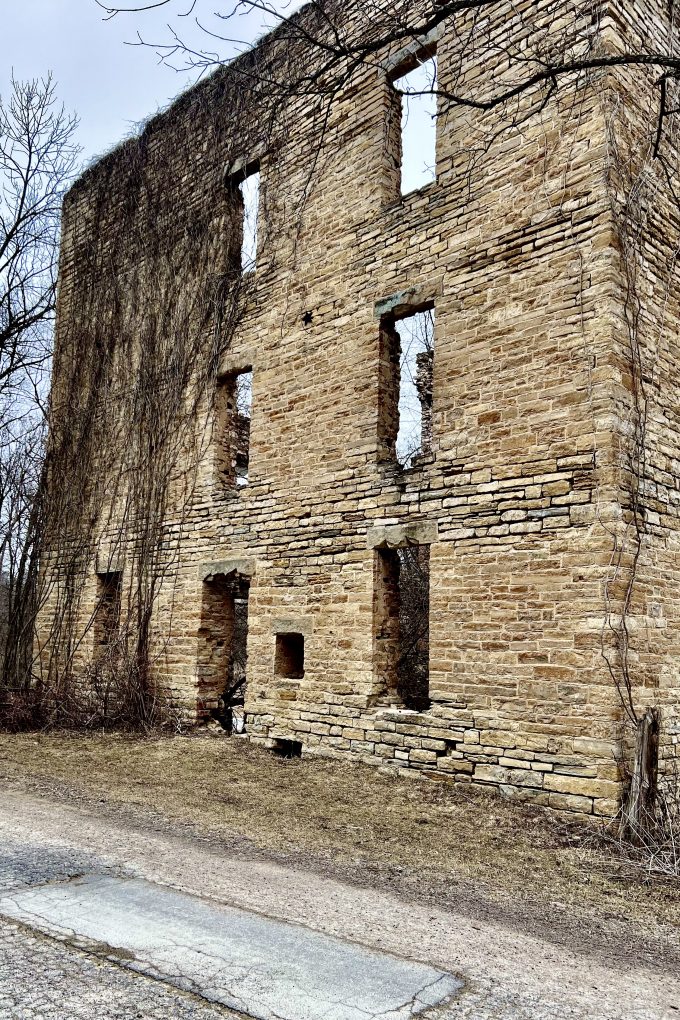 In 1876 the flour produced from Oxford won a first-place medal during the Centennial in Philadelphia in 1876. The new mill was capable of processing 400 bushels of wheat daily and employed 30-40 men. This information about the mill was garnered from a 2019 article in the Red Wing Republican Eagle.
Across the street from the mill is a home I wouldn't mind having. It sits on the banks of this beautiful little creek. I told John that if I lived there, I'd build some steps down into the creek, so I'd have access to wade in the water in the summer. Who am I kidding? I wouldn't build the steps; I'd find someone to build them for me! I love to wade in creeks on hot days, especially creeks with sandy bottoms.
After we left the mill area, we drove around aimlessly. This was the part of our journey that reminded me of my childhood days spent with my mom. We'd go out for drives, and she'd say things like, "let's go see what's down this road." I was never convinced it was a good idea because "what if we got lost?" But we never did. Well, we might have, but eventually, we'd find our way home. Thank God that with GPS, getting lost is no longer an issue. So, I encouraged John to go down all kinds of roads. Occasionally, he'd roll his eyes at me but always made the turn. If that's not love, what is?
When I was a kid, if we'd pass someone driving slowly, we'd call them "Sunday Drivers." It wasn't exactly a compliment, and I suppose there are worse things you could call a person. So now, I guess I am officially a "Sunday Driver," or Sunday rider, to be more accurate. Do you enjoy aimless driving? Some might think that with the current gas prices aimless driving is a waste. But it's still cheaper than going to a movie, and you don't have to stop talking. A win/win for a Sunday date.