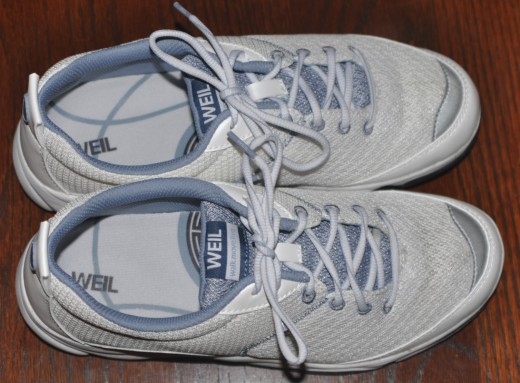 It's totally possible that I am in love with a man that I've never met. Don't panic, I'm not going to leave my husband, but seriously, this guy, Dr. Weil is his name, has designed a tennis show that actually fits my foot!
I could tell you all about my foot issues and my search for the perfect shoe. OR, I could tell you about the hundreds, no thousands, of dollars I've spent on shoes through the years that end up going to the Goodwill in perfect condition because I've never really worn them more than a few times. But, instead, I'd rather just keep this brief and tell you that if you have problem feet, such as I do, this Dr. Weil guy just might save your life.
There are a few stores on the west coast that carry this brand; which is where I originally tried them on. Unfortunately, they didn't have my size so I went online to look for them. As with a lot of athletic shoes, you'll want to order them about a half size larger than you'd normally wear. I also found them at Zappos.com. Truly, I am so in love with them.
Basically, you can just consider this short little update a public service announcement. You're welcome. We shall return to our regularly scheduled programming as soon as I have more than five minutes to sit down at the computer and dump out everything else that is on my mind.