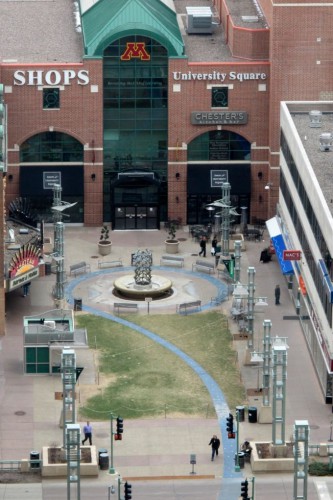 Most of my writing of late has been on my husband's Caring Bridge page so I decided that it's time for a little bit of funny here on my blog. As you may know, I've seen a lot of Rochester, Minnesota these past few weeks. If you've ever spent a lot of time in this fair city you are aware that once you find a parking spot it's just easier to walk wherever you need to go within the downtown area than to try and move your car closer. As I've been walking to and from various restaurants there is one location that's brought back all kinds of memories for me.
A few years back, (or possibly twenty) my friend, Diane, was going to the Mayo clinic for some health issues she was having. We drove down one afternoon for an appointment and our plan was to have lunch before we went to the clinic. We'd already visited a few local restaurants and one of our favorites was Pappageorges (hidden inside of the long standing Michael's Restaurant.) They have some great hamburgers and fries, and Diane says their soup is good, too. (At least that was the situation 20 years ago.) Because we were running a little late, we decided that it would be best for me to drop Diane off and have her go to the restaurant and order our food so we'd have plenty of time to eat before heading to the clinic. I told her exactly what I wanted for lunch (we knew the menu by heart) and dropped her off near the parking ramp elevator while I continued circling in search of an empty spot.
A few minutes later I had the car parked and made my way to Pappageorges. When I arrived I searched the restaurant only to find that Diane wasn't there yet. Curious. But, Diane is a tad bit directionally challenged. When she gave me permission to use her real name in this story she told me to be sure to mention that she has other gifts. And she does. Anyway, I sat at the table and waited and waited for Diane. After not very many minutes I decided I should order, as I knew she was planning to have soup and it would take longer to get my food.
By the time my food arrived I was starting to grow concerned about Diane's whereabouts. I mean really, there were a few different routes between the parking lot and Pappageorges but none of them should take THIS long. Did I mention that this situation occured before the advent of cell phones? Or at least before we both had one.
What was I to do? An amazing hamburger covered in grilled onions, no pickle in sight (thank you, Jesus, the waitress got it right) and fries on the side, all stared up at me waiting to be eaten. I ate it, of course. I figured if something had happened to my friend, I was going to need my strength. No sense going into a crisis hungry. I knew the exact location of her 1:15 appointment and I decided not to panic unless I got there and she was still missing.
I finished my lunch, paid my bill, and headed across the Square pictured above. That's where I ran into Diane holding a takeout box with a hamburger and fries inside. She'd picked it up at the Kahler Coffee Shop where we'd eaten on our last visit. As soon as she had finished her soup she remembered where we were supposed to eat and was on her way to Pappageorges to find me.
I doubt I'll ever forget watching Diane toss the uneaten lunch into the trash. I wanted to stop her but I knew it wouldn't be safe to eat after sitting out for hours. I have relived that moment several times over the past few weeks and it still makes me laugh.
Eventually we made our way to the clinic, got off the elevators where Diane turned right as I turned left. I called out to her and said, "Um, Diane, turn around, we need to go this direction."
"Are you sure?" she replied.
"Yes, I'm sure. Let's make a deal. Let's just agree that when it comes to directions, I'm in charge from here on out. You can be in charge of other things."
It's an agreement that's worked well for us over the years and we still have plenty to laugh about.