Do you ever get tired of eating the same old thing? Chicken, fish, beef—cooked the same old way, every single time. Well, I do so I decided it was time to look for some new, healthy options. Though I've lost over 25 pounds in the past couple of years, I'd still like to lose some more but I was bored my current food choices. Currently, I am following the Noom "lifestyle change" program. It's going great on the days when I stay serious about changing my lifestyle, but wow, it's easy to get sucked back into the not-so-healthy lifestyle. That's why I decided to start trying some new recipes that have less fat and calories, and fit into my new healthier lifestyle. With a goal of trying one new recipe each week, I've found some really delicious dishes. Don't think for a minute, that these taste like diet food, because really, I'd rather be fat than eat bad food. I thought I'd share some of the recipes I've found with you in case you, too, are suffering from "boring dinner syndrome."
If you know me, you know I'm not a fan of spending lots of time in the kitchen, henceforth; all of these dishes are fairly easy to make. Click on the recipe title to find the recipe and photo credits.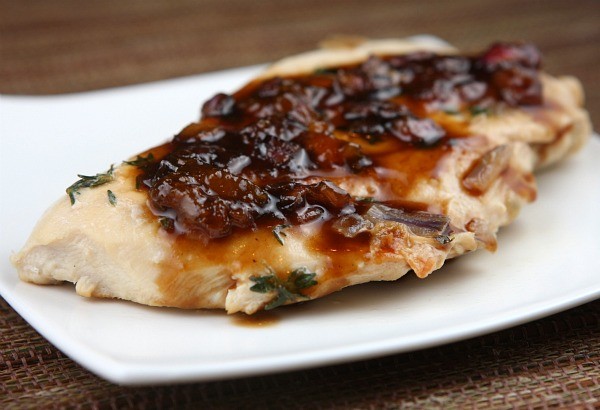 This chicken dinner cooks up quickly but needs to be done at the last minute, so that is the downside. I recommend chopping and measuring everything in advance so you don't end up scrambling around measuring ingredients and letting your chicken overcook in the process. This has been known to happen in our house and overcooked chicken is not very tasty. If you don't have fresh thyme, just use some dried—it's not as good, but it'll suffice and save you a bunch of money.
Slow Cooker Cider-Braised Pulled Chicken-Apple Sandwiches
Do you have a crowd coming? These cider-braised pulled chicken apple sandwiches are my new go-to make ahead meal for when our kids/grandkids come for the weekend. It freezes well so you can either throw it all in a large Ziploc, or measure it out into smaller bags to create easy-to-grab individual meals. I don't, however, suggest making them and then eating them every day for a week while you recover from Influenza A. Just saying. And though I like the chicken better on a bun, it's also tasty served alone, or on a salad. I've been known to completely forget to add the rosemary and vinegar at the end, and no one was the wiser. The cabbage/carrot topping provides a healthy way to add some crunch to the sandwich.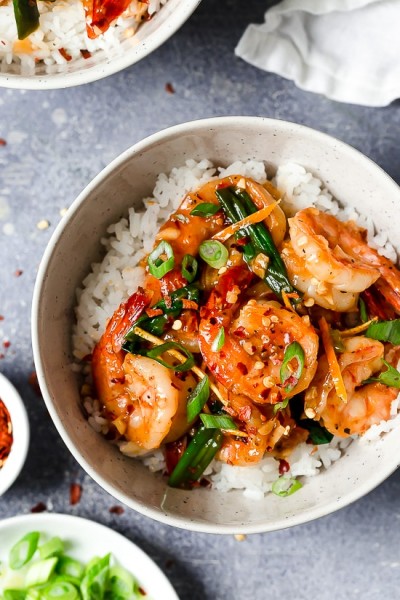 I've never been a fan of shrimp in the past but it's my new favorite, easy-to cook-dinner. This is another recipe where I advise you to do your chopping and measuring in advance. The only thing I did differently with this recipe is use small deveined, peeled, tails off shrimp rather than the jumbo shrimp it calls for. And if you don't like spicy, go easy on the red pepper flakes. I used ¼ teaspoon and it still had quite a kick to it for my sensitive palate. Serve it over riced cauliflower for a really low-cal option, or regular rice if you just don't care. Weight Watchers (now called WW) also has a fabulous Shrimp Scampi recipe. It's a little time consuming to make, but wow it's delicious!
Broiled Steak and Peppers with Easy Spicy Green Sauce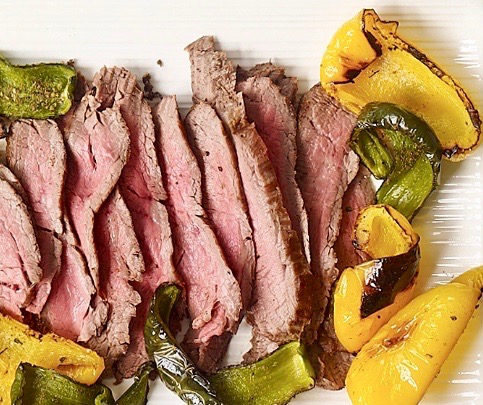 If you don't like cilantro, you won't like this recipe but it's one of my favorites. The first time I made it with the peppers and they burnt to a crisp. So now, I just make it with just the steak and put the sauce (which is not shown in the picture) over the top. And don't worry about it being too spicy. I use a mild salsa verde and it's not spicy at all—just delicious!

What's your favorite healthy dinner option? I'd love to try it! Let me know what you think if you decide to try any of these.
Cover photo by Alyson McPhee on Unsplash