I read a lot of books. And, for the past year or two I've been writing reviews on Goodreads and Amazon. But, I'm also a writer with a very sensitive ego so I absolutely hate choosing how many stars to give a book. A book I love might not be the same book you love so I've decided to include my criteria for choosing how many stars to give a book in my reviews.
My Personal Rating System
Five Stars = I LOVED the book. It might not fall into the category of amazing literature, but it kept me entertained or I found the information inside fascinating and/or helpful.
Four Stars = I liked the book a lot.
Three Stars = The book was okay – interesting enough for me to finish reading it. It might be a great book but wasn't a great book for me at this time in my life's journey.
Two Stars = It's not the worst book I've ever read but it didn't thrill me. Again, just might not be for me right now.
One Star = I didn't really like it at all, but I took the time to finish it. (I never rate books I don't finish because that doesn't seem fair.)
If a book includes swear words or sex scenes which would be better left to the imagination, I dock it one star. I'm just not a fan of that kind of thing. And, I rarely give a book one or two stars because of my sensitivity to an author's feelings and, if it's that bad I probably didn't finish it.
The Right Book at the Right Time
Whether or not a person likes a book is entirely personal and is affected by their current situation. For instance, I started three different books after my mom died before I landed on one I wanted to finish (and even then I wasn't so sure.) The first one was called The Worst Hard Times by Timothy Egan. It's about the dust storms in the High Plains during the depression. I just couldn't get into it but my sister-in-law told me it's a great book so I might go back to it eventually. The second book I tried was the second book in The New Rulebook Christian Suspense series. Although the first one had been a bit different than my normal book choices, I still enjoyed it. But, I was having trouble getting into the second one. It's a little bit science fictiony which isn't really my favorite genre.
I finally landed on Rebecca of Sunnybrook Farm, which I figured would be a fun, light, and easy read. It's mostly fun and light, but being as it was written in 1903, some of the grammer is not what we would use today and slows me down a little. But, the good news is it's only 205 pages so I'll be done soon.
Some Books I Love
I have read some great books this year so I thought I'd share them with you in case you're in search of your next great book.
The Maid of Fairbourne Hall by Julie Klassen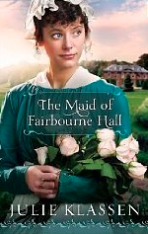 Margaret Macy is destined to inherit a fortune, but not until her next birthday. Her conniving stepfather, however, is scheming to get use of her fortune by encouraging his nephew to use whatever means necessary to get Margaret to marry him. Her only choice is to flee from her home and find a job with which to make her way in the world—at least until she receives her inheritance. This is complicated by the fact that Margaret has never worked a day in her life. Julie Klassen is one of my favorite authors and this novel does not disappoint.
The Oath by Frank Perreti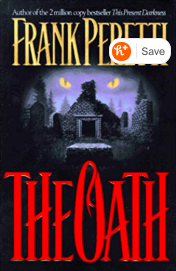 The community of Hyde River in the Pacific Northwest has been keeping secrets for nearly a century. The sheriff is inclined to look the other way when the law is stretched a bit. But biology professor, Steve Benson is on a hunt to figure out whom or what killed his brother. This chilling suspense takes the reader on a wild ride. I listened to the audible version of this book (which I still count as reading) and loved it. It is definitely told from a Christian worldview, which I appreciate. I only gave it four stars because it left me wanting just a little bit more in the line of character development, but really I'd give it 4.5 stars if I could.
The Lost Heiress by Roseanna M. White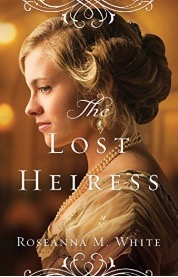 I fell in love with this book's protagonist, Brook, right away. She's independent, feisty, and determined in everything she sets her mind to. Her best friend, Justin, realizes that Brook is actually an heiress who had gone missing as a baby, and whose mother had died in a tragic accident.
But, Brook will learn that her status as the family heir apparent puts her life in danger. It's a gripping read.
I Will Always Write Back by Martin Ganda, Caitlin Alifirenka, and Liz Welch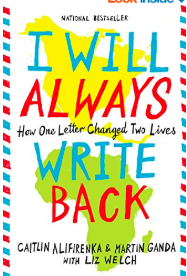 Caitlin (a middle school girl from Pennsylvania) and Martin (a 12-year-old from Zimbabwe) meet through a pen pal program that starts between their schools. Martin is an extremely bright, and extremely impoverished young man. Caitlin is a typical American girl from an upper middle class family. Through their letters they get to know each other and as time passes Caitlyn realizes that Martin's life is extremely different from hers. This is a beautiful, true story of how friendships can blossom despite location, race, gender, or lifestyle. Though it's easy to see, and hard to absorb, the difficulties in Martin's life, it's equally as easy to see Caitlin's tender heart for helping her new friend. Parts of this book made me laugh and other parts ripped my heart out. I highly recommend it.
Broken Escalators: Funny & Frightful Lessons about Moth Eating and Moving to the Next Level by Peter Hass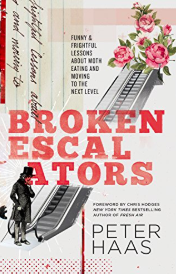 Peter Haas is an excellent writer. He's funny, engaging and provides a lot for the reader to think about. Sometimes, when we're seeking promotion it seems as though our elevator to the top is broken, but maybe it's exactly where it should be. Peter examines 10 myths that we believe about promotion—or lack thereof. If you feel like you're stuck, this is a must read!
What have you been reading lately? I'd love to hear about your favorite books in the comments.
Cover Photo by César Viteri on Unsplash